Let's cover the basics with a quick dashboard I use a lot as a starting point for many performance analyses or keyword research, audit etc.
The document is showing the list of landing pages and the entrances by day/week for the filter you want.
For example, you can set up the report to provide automatically a daily update of your search performance for your content tagged X + a chart for a quick overview. Now, you can expand this report to cover other tags and make it a report by section of your site you can share with section editors: e.g. 'Gaming performance report' spreadsheet and different sheets for each game, mobile section by brand/model… etc. your GA setup is the limit.

If you're not interested in the details, here's a direct link to the report:
https://docs.google.com/spreadsheets/d/161D8Et6r1KrGOTJuS9qTAEQpmIg5CgAnk0iwRjGEUMo/edit?usp=sharing
---
Step 1: Setup a report with the Google Analytics plugin for Google Sheets.
If you're not familiar with the tool, I would strongly advise starting using it. I can imagine my (work) life without it. If you don't have it already here's the link to install: https://workspace.google.com/u/0/marketplace/app/google_analytics/477988381226?hl=en&pann=sheets_addon_widget
In the menu: Add-ons > Google Analytics > Create a report
You can use the form to generate your report but I suggest filling the data directly in the Sheet "Report Configuration" created. Once you have it you can duplicate it in other report and start from there.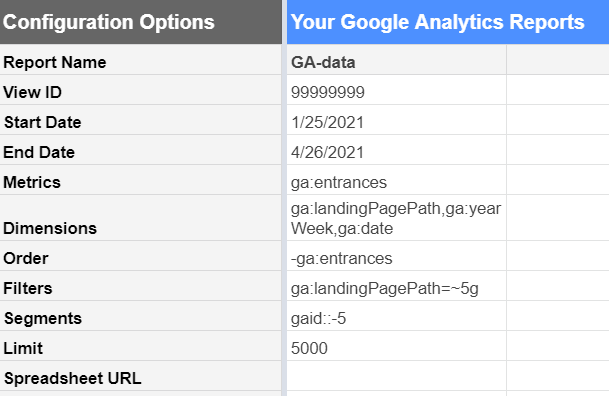 Report Name: This will be the name of the new sheet with your data (must be unique)
View ID: your GA view ID
Start Date: (gsheet formula to get the past 13 weeks) =B5-7*13
End Date: (gsheet formula for yesterday) =TODAY()-1
Metrics: ga:entrances
Dimensions: ga:landingPagePath,ga:yearWeek,ga:date
Order: -ga:entrances (entrances descending order)
Filters: ga:landingPagePath=~5g|4g (= regex for 'contains 4g or 5g')
Segments: gaid::-5 (default GA ID for Organic Search)
In the menu: Add-Ons > Google Analytics > Run Reports
---
Step 2: Create the Queries
Now you should have a new sheet named whatever you added in the 'Report Name' with your precious data. We'll use my favorite Google Sheet function to transform that data into something actionable.

Create a new sheet 'Traffic by Week'
in the B2 cell (not A2, we need that first row later) copy/paste:
=query(
query('GA-data'!A15:D,"select A,sum(D) where A is not null and C < date '"&text(TODAY()-WEEKDAY(TODAY()),"yyyy-mm-dd")&"' and C > date '"&text(TODAY()-WEEKDAY(TODAY())-12*7,"yyyy-mm-dd")&"' group by A pivot B")
,"select * order by Col13 DESC",1)
Few notes:
'GA-data' is the report name I used in the Report Configuration.
It gets all data from the A15 cell of that sheet which is the default starting cell for the data (double-check for it to make sense)
'select A, sum(D)' landing pages + the sum of entrances (by landing pages cf. 'GROUP BY' further down)
'where A is not NULL' helps the query not to use the empty cells in the A15:D range
the date part is a bit confusing mainly because Google requires to use the word 'date' whenever you're making a date comparison. Here it says: every week for the past 12 weeks (~3 months)
'group by A' here the landing pages
'pivot B' the week of year
that query is nested in another query so you can sort the result by the last column (i.e. the latest week data) – notice that I can't use the column names here ('Column13' instead of 'M' – more information below)
More about QUERY():
For those who are interested, here's a quick and complete lesson for the Google Sheets QUERY function. This is my go-to cheat-sheet. https://codingisforlosers.com/google-sheets-query-function/ Another tool I couldn't live without today.
Congratulations ! You already have a list of your traffic by week for the segment you want.
---
Step3: Add a subtotal on the first row + Chart
This is why I needed the first row.
In A1 you can type "Traffic by week"
the next 12 columns are just the sum of the entrances by week A2 will be =SUM(B3:B) and you can pull the formula to the other columns on the right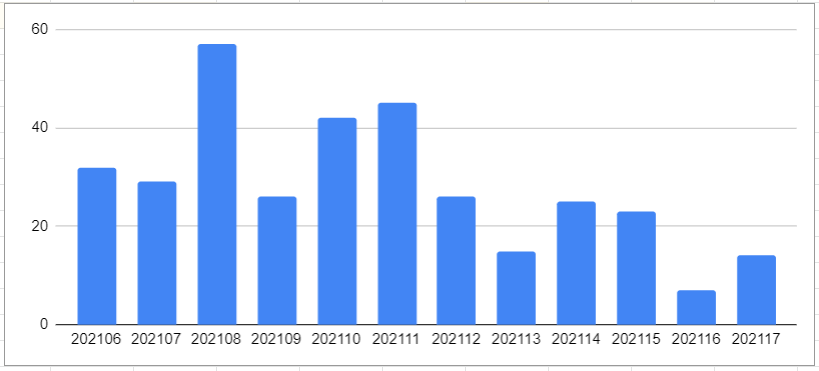 For the chart, use a 'column chart' with the following options:
Data range: B1:M1,B2:M2
Combine Ranges: Vertically
Stacking: None
X-Axis: B2:M2
Series: B1:M1
Switch rows/columns
---
Step 4: 'by day' Sheet
Create a new sheet 'by day'
cf. step 3, only the query is different:
=query(query('GA-data'!A15:D,"select A,sum(D) where A is not null and C > date '"&text(TODAY()-14,"yyyy-mm-dd")&"' group by A pivot C"),"select * order by Col14 DESC",1) 
---
Step 5: Duplicate, Automate and enjoy
Here's a dummy template I created with one of my old website you can make a copy of (File > Make a copy): https://docs.google.com/spreadsheets/d/161D8Et6r1KrGOTJuS9qTAEQpmIg5CgAnk0iwRjGEUMo/edit?usp=sharing
Schedule the reports to run every night so it's up to date when you start your day:
Add-Ons > Google Analytics > Schedule Reports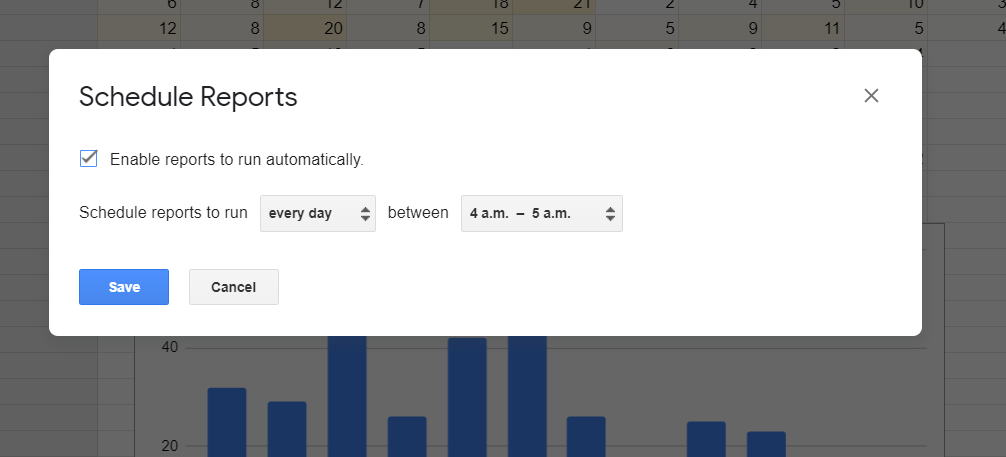 Feel free to upgrade, optimize, change, make a data studio connection…